Since the 1970's jogging has become an increasingly popular form of exercise.
Jogging means running at a gentle pace. Going at a pace of less than 6 miles per hour (10 km per hour) is usually defined as jogging, while running is defined as anything faster than 6 miles per hour.
There are many reasons why jogging has become so popular. Firstly, it is easily accessible and relatively inexpensive. Secondly, it usually makes people feel good. Thirdly, we believe jogging to be associated with good health and increased life expectancy.
However, there have also been concerns about possible harmful effect of jogging. We've all heard of people dying while jogging and it is often suggested that it might be too strenuous for ordinary middle-aged people.
James Fuller ("Jim" Fixx) was an American, who wrote the 1977 best-selling book The Complete Book of Running. His enthusiasm and believe in the role of exercise helped spark America's fitness revolution, and he blew the lid off the alleged health benefits of running and jogging.
Fixx started running in 1967, then 35 years old. At that time, he weighed 240 pounds (110 kg) and smoked two packs of cigarettes every day. Ten years later, at the time of the publication of his book, he had lost 60 pounds (27 kg) and had quit smoking.
He firmly believed in the benefits of physical exercise and boosted the belief that regular jogging and running would increase average life expectancy.
Sadly, Fixx died of a heart attack while jogging, at the age of 52. The autopsy revealed severe coronary artery disease.
Fixx's sudden passing sent waves of shock through the community. Lawrence K. Altman MD wrote for The New York Times
THE first symptom of heart disease is sometimes sudden death. Never was that fact made clearer than in the ironic death last week of James Fixx, whose best-selling book "The Complete Book of Running" led tens of thousands to take up jogging and made him a guru of the running world. Mr. Fixx, whose transition from a heavy young man who smoked two packs of cigarettes a day into a trimmer, middle-aged nonsmoking athlete seemed to insure a healthy life, died at the age of 52 while jogging in Vermont…"
Fred Lebow, then president of the New York Road Runners Club, and the guiding light of the New York City Marathon said
"What I'm concerned about now is all those people who talk about the danger of running. What does this prove to them? Sure, we have people dying in Central Park, one or two a year while running. But I'm sure more people die on the golf course or watching the Yankees play baseball. Maybe if Jim Fixx didn't run, he'd have died five years ago."
Of course, it must be acknowledged that Fixx had a family history of heart disease, and there were several lifestyle issues that may have increased his risk. His father had a heart attack at the 35; Fixx was a heavy smoker before he took up running, and he had a stressful occupation.
In 2013, the number of US joggers was estimated to be 54 million. This number has increased 20-fold in 35 years. Therefore, studies on the health effects of running and jogging may have important implications for public health.
Health Benefits of Jogging
In 1953, British researchers found that drivers of London's double-decker buses were more likely to die from heart attack than the more physically active conductors (1). Another study published five years later found that government clerks suffered more fatal heart attacks than postmen (2).
These studies laid the foundation for the hypothesis that men in physically active jobs were at lower risk of heart disease than men in physically inactive jobs. In other words, it was proposed that a sedentary lifestyle was a risk factor for heart disease.
The Honolulu Heart Study followed physically capable elderly men aged 71 to 93 years (3). The results published 1999 showed that men who walked less than 0.25 mile a day had a two-fold increased risk of coronary heart disease compared to those who walked more than 1.5 miles a day. The researchers concluded that the risk of coronary heart disease decreases with increases in distance walked.
The Copenhagen City Heart Study kicked off in the 1970's. It is a prospective population study of cardiovascular disease of around 20,000 men and women aged 20 years and over. The study makes use of the Copenhagen Population Register.
Data from this study published 2000 showed significantly lower mortality among male joggers compared with men that did not jog (4).
In a paper published by the same group in 2013, regular jogging was associated with longevity among both men and women. The age-adjusted increase in survival with jogging was 6.2 years for men and 5.6 years for women.
How Much Jogging Will Improve Health
Despite the association between jogging and longevity, the optimal intensity, frequency, and duration of physical activity have yet to be established. However, two recent papers may shed some light on these issues.
A recent paper from the Copenhagen City Heart Study addresses the association between the dose of regular jogging and longevity in 10,89 healthy joggers (5).
Firstly, the study found that jogging, even less than one hour a week or once per week is associated with a significant reduction in mortality risk compared with sedentary non-joggers.
Secondly, 1 to 2.4 hours of jogging per week with a frequency of 2-3 times per week, at slow average pace is most strongly associated with a reduction in mortality risk.
Thirdly, higher jogging times (more than 2.5 hours per week), higher frequencies (more than three times per week), and faster paces were not associated with better survival compared with sedentary non-joggers.
These findings are supported by another recently published paper from The Aerobics Center Longitudinal Study, which is based in Dallas, Texas (6).
The study addressed 55,000 adults between 18 and 100 years of age who were followed for 15 years.
Runners as compared with non-runners had a 30% and 45% lower risk of all-cause and cardiovascular mortality, respectively.
Maximal benefits on cardiovascular mortality risk were found with moderate doses of running (specifically 6-12 miles per week), running durations of 50-120 minutes per week, a running frequency of approximately three times a week and a modest pace of approximately 6-7 miles per hour.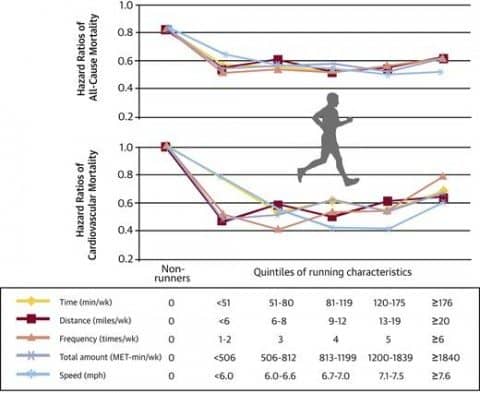 Why Should We Jog?
Regular jogging may have several health benefits. Beneficial effects on blood pressure, HDL cholesterol, bone health, and mental health have been reported.
Furthermore, observational studies have consistently found an association between regular jogging and reduced mortality risk as compared to sedentary behavior. Maximal health benefits in terms of longevity may be achieved with light or moderate exercise.
However, case-control studies such as these can't prove causality. The results tell us that people who jog are likely to live longer than those who don't. However, they don't prove that jogging prolongs life.
The late Dr. George Sheehan was a respected cardiologist, an accomplished runner, and author of eight books. Similar to Jim Fixx he was one of the pioneers of the fitness boom of the 1970's. He was a popular lecturer and traveled the world to teach about the importance of exercise and sport and promote the "athletic life".
Sheehan was very passionate about running. He had a very competitive personality and was always looking for ways to improve. For him, the feel-good factor was probably more important than anything else.
In his book Running and Being Sheehan writes
A daily jogger has written to me in frustration because medical science has failed to come up with conclusive proof that jogging will prevent heart disease. Why jog, he asks, if there is not definite evidence that jogging will thwart a heart attack?

The answer, it seems to me, is that we should do so for more important and urgent and compelling reasons. We jog, play tennis, cycle, swim, hike, hunt, ride horses or whatever because they have to do with the quality of our lives rather than the quantity.