Estimated reading time: 7 minutes
One of the biggest questions facing clinical cardiology today is the decision on when to treat healthy people with statin drugs. Data from randomized clinical trials show that such treatment may be beneficial for individuals with high risk of developing cardiovascular disease. However, statins are not without side effects, therefore we have to be sure that the risk of harm does not outweigh the presumed benefits.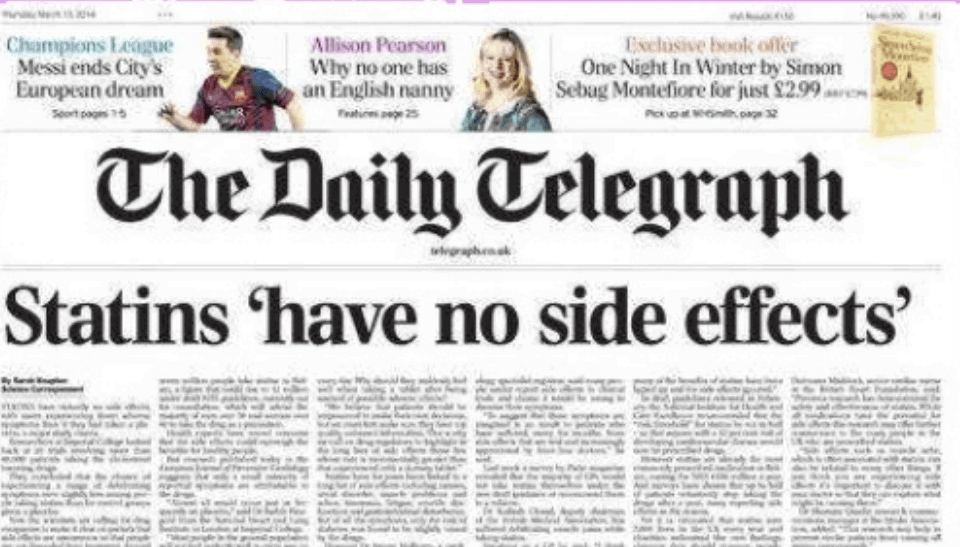 Statins lower blood cholesterol. They also appear to have a few other effects which may be beneficial for people with established cardiovascular disease. Randomized clinical trials have shown that statins reduce the risk of death and new cardiovascular events among individuals with coronary heart disease. Not prescribing statins to people who may benefit from such therapy is considered bad medical practice, unless the patient is intolerant to statin treatment.
If implemented, the 2013 ACC/AHA guidelines on primary prevention will lead to a much higher number of healthy individuals receiving statin therapy. In fact, more than 70 percent of people older than 60 years may become eligible for such treatment. The major criticisms of the guidelines as they pertain to statins are concerns about adverse effects and lack of benefit on total mortality
Today, everybody should know that statins have side effects. Although most are relatively benign, serious life threatening adverse events have been reported. Such side effects are rare, but they are a cause for concern if millions of healthy people are to be treated with these drugs.
How Common Are Side Effects of Statins?
The 2013 ACC/AHA recommendations on statins for healthy individuals mainly rely on evidence from meta-analyses of randomized clinical trials.  Part of the recommendations are based on risk calculation, assuming that when a certain amount of risk is present, the benefit of therapy outweighs the potential harm. However, there are some important questions remaining unanswered such as: How common are side effects from statins in real life, and does the current scientific literature provide reliable data to answer this question?
Recently a study was published in The European Journal of Preventive Cardiology addressing the side effects of statins compared with placebo among more than 80 thousand patients participating in randomized clinical trials of statins. Interestingly, apart from a slightly increased risk of diabetes and mild elevation of liver enzymes, side effects were not more common among patients receiving statins compared with those on placebo. The results have received a lot of media attention with headlines like: 'Statins have virtually no side effects, study finds'. The Telegraph reports:
Researchers at Imperial College looked back at 29 trials involving more than 80,000 patients taking the cholesterol lowering drugs.

They concluded that the chance of experiencing debilitating symptoms like nausea and fatigue was slightly less among people taking statins than for control groups given a placebo. Now the scientists are calling for drug companies to make it clear on packets that side effects are uncommon so that people are not wrongly dissuaded from treatment.

Around seven million people take statins in Britain, a figure that could rise to 12 million under draft NHS guidelines, currently out for consultation, which will advise the majority of men over 50 and women over 60 to take the drug as a precaution.

Health experts have voiced concerns that the side effects could outweigh the benefits for healthy people.
One of the authors of the paper, Dr. Ben Goldacre has commented on the media reports on his website, Bad Science:
I was surprised to see a study I'm co-author on getting some front page media play today, under the headline "Statins have no side effects". That's not what our paper found…

Remarkably, people report typical statin side effects even when they are only receiving placebo: the phenomenon of people getting unpleasant symptoms simply because they expect to is fairly well documented, and it's called the nocebo effect…
Assessing side effects of statins by using data from randomized clinical trials testing the efficacy of these drugs is problematic in many ways. First, these studies are not designed to study side effects. Second, methods used to detect and assess side effects are not defined. Third, sponsors of clinical trials may have limited interest in searching for potential side effects. Fourth, there is selection bias. Patients selected for participation in clinical trials have to fulfill certain criteria and therefore very often don't reflect a "real life" patient population. Patients not eligible for clinical trials are often sicker, have more kidney failure, diabetes and high blood pressure. These individuals may have higher risk of side effects from statins. Fifth, many trials have placebo run-in periods to test compliance. This may further select highly motivated patents who are less likely to report side effects.
Dr. Ben Goldacre underlines the importance of having access to the Clinical Study Report (CSR) of a trial. Let me quote him:
These are very long and detailed documents that give a huge amount of detail about the methods and results of a trial, and they're important, because methodological flaws can often be glossed over in the brief report on a clinical trial that appears as an academic journal paper.

I'd like to repeat the study, using the CSRs on the trials as the source data on the side effects, rather than the academic journal papers. That is a big piece of work because companies generally refuse to share CSRs…
What Are the Most Common Side Effects of Statins?
Liver and muscle problems are the most common side effects of statin therapy. Liver tests are usually monitored and the drug is stopped if there are significant abnormalities. Muscle ache is common. Muscle damage can occur and in rare cases it may become serious.There appears to be increased risk of diabetes on statin therapy. Some studies have reported changes in memory, attention, or concentration on statins.
There are some reports on changes in mood on statins.  These include loss of interest in activities and loss of interest in social involvement. Studies have confirmed that peripheral neuropathy (tingling and numbness or burning pain) may occur with statins. Sleep problems, sexual function problems, fatigue, dizziness and a sense of detachment are also reported with these drugs.
Have YOU Experienced Side Effects from a Statin Drug?
It is of huge importance for clinicians and patients to have access to reliable information on the risk of side effects of statins. As doctors, we don't want to inflict harm to our patients. On the other hand, the risk of side effects from statin therapy appears small. Therefore doctors can also inflict harm to their patients by exaggerating potential side effects which might lead to a patients unwillingness to accept treatment that is of potential benefit.
Recently, Rory Collins, a Professor of Medicine and Epidemiology at the University of Oxford was quoted in the Guardian saying that:
Doctors worrying about the safety of cholesterol-reducing statins are creating a misleading level of uncertainty that could lead to at the loss of lives…
On the other hand, rare side effects may become important when treatment is given to a large proportion of the population. We've recently had patients at our hospital with severe breakdown of skeletal muscle (rhabdomyolysis) resulting in serious kidney failure that appears to be directly associate with treatment with statin drugs.
There's no doubt that a large majority of individuals taking statins don't experience any problems with the drugs. However, a substantial number of people experience side effects. I fear these side effects are more common and sometimes more serious than the results from randomized clinical trials have suggested.
People who have experienced side effects often feel that they are not listened to. Many of these side effects are never reported. If you have any experience from statins, good or bad, no matter whether you are a patient, a medical professional or just a medical geek, here might be a good place to tell your story.